Blizzard's Diablo 4 website received an update recently. The update comes nearly 4 months after the announcement of the game at 2019's BlizzCon event in Anaheim, California.
I'm always impressed at the websites Blizzard creates. Blizzard has a host of talented artists that really do a stellar job at using modern technology to push their websites further with each new game and update. The Diablo 4 website is no different. Using a lot of animation and video, you almost feel like you're playing the game just by being on the website.
Age Verification
Besides the tech, the first thing we noticed is that Diablo 4 is the first of any Blizzard website to require age verification to proceed. Immediately upon visiting the URL, users are greeted with this screen:
Steam does this on a game-by-game basis, so this is nothing new. But Blizzard generally has opted to build games for the largest audience possible, which includes young kids. Clearly Diablo 4 is a departure from this strategy.
Outspoken fans have criticized both Diablo II and Diablo III for being "colorful" and "bright". This may be a testament to Blizzard listening to its fans. Regardless of why, Blizzard has committed to the darkness of the Diablo story and is double… — no, tripling — down on darkness in this latest installment.
Homepage
Immediately apparent is the use of full-screen backdrops and a left side navigational menu. This puts the focus entirely on the high-level sections, before drilling down deeper into the classes, world, story, and more.
Re: Blizzard's commitment to darkness, take note of the slogan used below the logo on the homepage; "Return to Darkness".
To experience the darkness we speak of, take a look at the official Diablo 4 announcement trailer, clocking in at a lengthy 9 minutes and 20 seconds.
Classes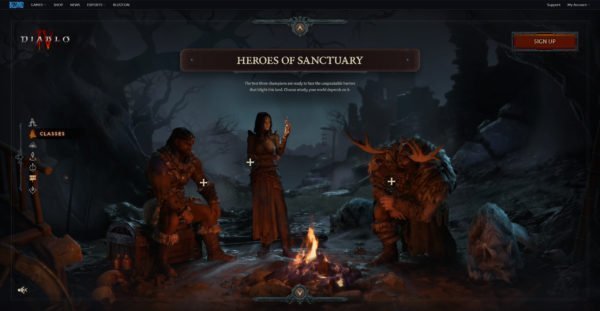 Continuing with the website, we've navigated to Classes. No new classes are revealed. To recap what's been known since the reveal of Diablo 4, the Barbarian, Sorceress, and Druid are confirmed, playable classes; all seen here.
Gameplay
Next is gameplay. No changes here, either. Just the option to view the 3 minute video from the BlizzCon announcement. We've linked it below for convenience.
World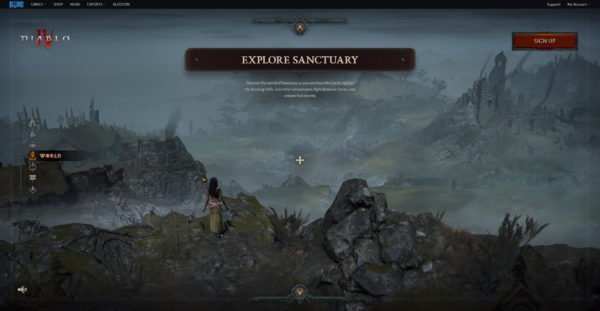 Exploring this pages further takes you to a series of screenshots and animations depicting various locales throughout the world of Sanctuary.
Scosglen appears to be rocky cliffs near a waterfront with many broken ships and hazards.
Fractured Peaks is shown a single artist's rendering of a shadowy figure in a dreary, snowy scene.
Dry Steppes is reminiscent of Lut Gholin from Act 2 of Diablo 2 — a desert city.
Hawezar looks to be a mossy, vine-infested swampland where the Druid might feel right at home.
Kehjistan is an extension of the desert palette, but with rocky cliffs and demonspawn.
Story
Blizzard's Diablo 4 team will be spending a heap of effort throughout its development on educating players of Diablo 4's new villain, Lilith. Having seen or heard very little about her until now, Blizzard opted to jump right to introductions via the announcement video.
According to the Diablo wiki, "Lilith is the daughter of Mephisto, the Lord of Hatred, the sister of Lucion, known to all of Sanctuary as the Queen of the Succubi."
Expect to see much more about Lilith in content updates throughout Diablo 4's development. Players will need to feel like Lilith has been part of Sanctuary's existence from the beginning in order to feel a greater threat than her uncles, Diablo, Baal, Mephisto, and Malthael.
Updates
The most significant information is found in the new Updates section. Diablo 4's Game Director, Luis Barriga, committed to providing quarterly updates from Diablo 4's development team. The first quarterly update includes topics from Lead UI Designer, Angela Del Priore and Senior Encounter Designer, Candace Thomas.
It is important to know that Diablo 4 is the first title in Blizzard's history to be developing for PC and consoles simultaneously. While this is likely to increase development times, there are benefits that can come from this in both a gameplay and cross-platform manner. Some of the updates below assume that you know this.
UI Design updates:
Single Slot Items – All items will now only occupy a single slot. This is a departure from all former entries in the series, and something new to Diablo 4.
Key (and mouse button) Bindings – Feedback from the playable demo at BlizzCon stressed the importance of rebinding, or remapping, your keys and mouse buttons. This feedback was accepted and the latest build of Diablo 4 allows players the freedom to bind their mouse and keyboards as they desire.
Action Bar Alignment – The BlizzCon demo also featured a left-positioned action bar. This has now been relocated to the center by default to match its predecessors. The option to align it to the left or right side of the bottom of the screen will be added settings panel.
Controller Support – With the success of Diablo 3 on consoles, Blizzard is continuing to blur the lines between hardware by supporting controllers on PC, natively.
Couch Co-Op UI – In cooperative mode on consoles players had a shared inventory UI, making it so that if one player needed to swap items, the other player would sit idle and wait. Efforts are being made to allow uninterrupted gameplay if one player wants to continue killing monsters while the other player changes gear.
Monster  Family and Design updates:
Monster Families – Be it demon, unholy, undead, humanoid, or wildlife, enemies you face will feel like a part of Sanctuary, with a backstory and history, to help make Sanctuary feel like a living, breathing place.
Monsters  Re-imagined – Some monsters will feel familiar, but will have been re-imagined in a darker, grittier art style to match the game's new, darker tone.
Drowned Family – Includes 5 archetypes: bruiser, ranged, melee, swarmer, and dungeon boss.
Cannibal Family – Includes 4 archetypes: bruiser, swarmer, melee, and dungeon boss.
Combat Adjustments – Players will be rewarded (and eventually required) to pay attention to enemy behavior to survive. Patiently waiting for the opportune moment to strike will pay dividends, while ignoring enemy combinations and attacks will punish players that fail to acknowledge a more intelligent enemy.
This all sounds promising, and we'll be sure to comment on each Diablo 4 quarterly update to bring you the meat of the content and what matters most.
Sign Up
Finally, Blizzard wants your email — as if they don't have it already…
Well, that's it for now. Diablo 4 is a game we're watching closely. We're optimistic this new, re-imagining of a darker Sanctuary, pays off. Either way, I believe the Diablo teams are well-aware of what's at stake. So it'll be a while before this launches, which leaves at least 7-12 more quarterly updates before it sees the light of day.
See you in Hell!